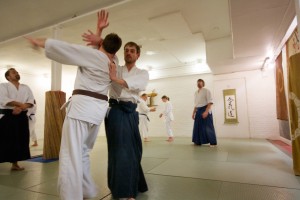 How to begin:
Anyone considering starting training is welcome to come and observe class at any time (Currently there is also a beginners series which you can join). Please try to arrive 15 minutes prior to class time for your first class. While students are welcome to wear a white keikogi, no special clothes or equipment are needed. Loose-fitting or stretchy athletic pants (sweatpants or similar) and a tee shirt are fine. For more information email info@blueheronaikido.org.
Schedule of Classes:
See the schedule for more details on time and location.
Training Fees:
Training fees for adults are $50 per month, for unlimited classes. Fees may be reduced for Middlebury College students.
Fees may be paid in cash or check. Checks should be made out to "Blue Heron Aikido". All fees should be turned in to Linda White, Joe Schine, or Adam Franco. Any new student must fill out a release form and turn it in with the first payment.
Fees for visiting Aikidoka: We ask that visiting participants contribute $15 per class.