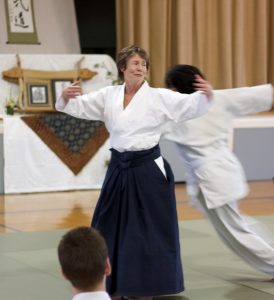 Blue Heron Aikido is excited to welcome Kimberly Richardson Sensei, 6th dan, to Vermont for a weekend Aikido seminar September 30th – October 2nd, 2016. Kimberly Richardson Sensei joins us from Seattle, Washington, where she is the founder and chief instructor of Two Cranes Aikido. Also joining us for this special event will be Dan McAbee Sensei, Aikido 5th dan, Aikibojitsu 5th dan.
Schedule
Friday
6:00-7:30 – Evening class with Kimberly Richardson Sensei at Vermont Aikido in Burlington.
Saturday
10:00-12:00 – Kimberly Sensei
2:00-3:00 – Kimberly Sensei
3:00-4:00 – Nidan demonstrations
6:00pm – Celebration and dinner hosted by Linda White Sensei
Sunday
9:30-11:00 – Weapons with Dan McAbee Sensei
12:00-1:30 – Training with Kimberly Sensei
Locations
Friday evening's class will be hosted by Aaron Ward Sensei at Vermont Aikido (274 North Winooski Ave. Burlington, VT).
Saturday and Sunday classes and demonstrations will all be held at Bridge School (1469 Exchange St, Middlebury, VT).
Cost
Full Seminar: $130
Friday-only: $30
Saturday-only: $65
Sunday-only: $65
Contact
For questions and more information, contact Adam at adamfranco@gmail.com, 802-458-0622.